S Club Sites Stick Together
So what exactly is 'S Club Sites Stick Together'?
WELL it's an idea to help lots of S Club 7 sites get more hits , stick together and stamp out rivalry!
Basically , lots of people think that theres is rivalry between S Club 7 websites , when really (I Hope) there isn't! So this is designed.. to stamp that rumour!
Basically its websites just showing that they support other S Club 7 websites! Its NOT a scheme designed so that people can freely take thing form other websites - ALWAYS ASK unless you know the person very well! BUT it is a linking and supporting scheme.
Using the word from Reach -
'We've got to all stick together , good friends there for each other'
We're sticking together , beacsue at the end of the day , we are all in it for the same thing! S C L U B 7!!!!!
To apply to join , send a E Mail to natalie_charlies_angel@hotmail.com
and include , your site details , your banner and your name and any comments you might have or questions.
You will be requested to place the button , linked back to this page

On your site in a prominant place!
!DISPLAYED HERE ARE BANNERS OF PEOPLE WHO ARE IN THE SCHEME!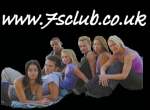 ---
HANNAH SPEARITT UK
S CLUB NEW ZEALAND